On the market for the first time in 35 years.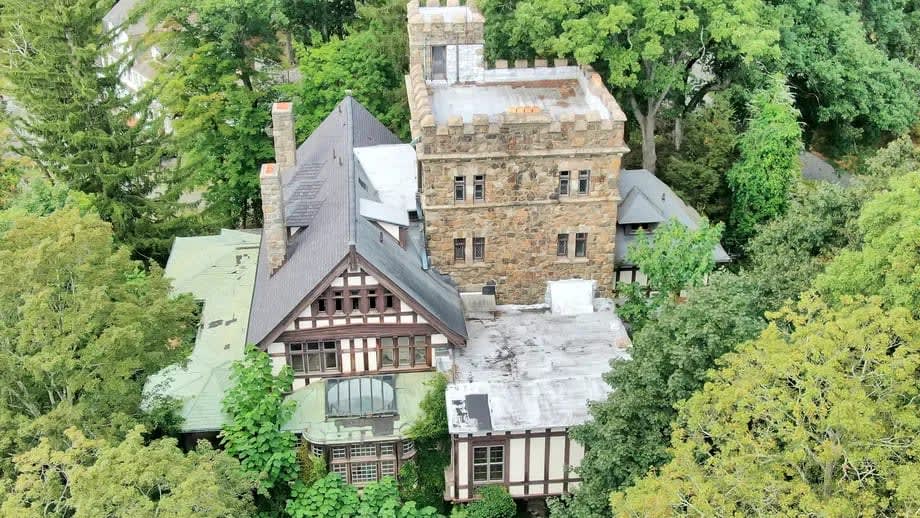 Photos by Ian Nelson, courtesy of Tuxedo Park Fine Homes
If you've ever wanted to run away and live in a castle, now's your chance. Located about one hour northwest of New York City in Tuxedo Park, this seven-bedroom, seven-bath castle-inspired home was originally listed on the market in September 2019 for the first time in more than 35 years. Six months later, the home is still looking for a new owner.

Designed in 1904 by the well-known Manhattan firm Barney and Chapman for William Mitchell Vail Hoffman, the Hoffman castle features a stone tower that is visible for miles away. It's a fitting landmark in Tuxedo Park, a gated community that began as a hunting and fishing refuge for Gilded Age high society.

The home's sprawling 12,637 square feet is in its original condition, which means that a proper restoration is in order. But with a bit of work the castle could really shine.

A two-story, elegant front hall welcomes you to the home, as does a wood-burning fireplace. Almost every room features a fireplace, from the square great room to the library and den. Many rooms are filled with crown molding, intricate hand-carved wood, and elaborate ceilings. Large windows let in light, and the flooring ranges from wood to black and white checkerboard.

The top of the house features an oversized penthouse room with fireplace, of course and access to a rooftop terrace on the tower. Interested? 116 Tower Hill Road is on the market now for $975,000.